THE HEMISPHERE CUP
Founded 2000

11th Hemisphere Cup – Machrihanish, Scotland
May 20th/21st, 2010
<![if !vml]>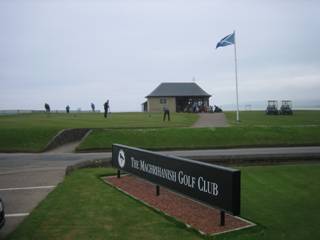 <![endif]>
After travelling to South Africa in 2009, it was back to Scotland for the third time in the cup's history in 2010. The Machrihanish Golf Club hosted the event and it proved to be a great venue.....
Another year for a long drive
Thanks to volcanic ash and stroppy air stewards and stewardesses, many people's travel plans were torn up the week of the event and necessitated some long drives. At least the car had a bit more space than last year. Spending hours in the car also allows you to learn more about your team mates and I discovered that David Burns has a fantastic memory for 80's pop music. Having claimed he knew nothing about music, Dave could guess the song title and artist from the merest hint of an intro (Odyssey hits anyone?). In comparison, Alex and Greg have a very poor grasp of popular 80's culture.
It was also fortunate (or unfortunate) that I had a version of 'Mull of Kintyre' on my iPod. This definitely became the song of the trip in our car and would start and end any journey. It will certainly bring back memories of our weekend there.
Perfect Conditions
What is it with Scotland and the Hemisphere Cup? The course, accommodation and weather were all great. It is not often that the factor 50 comes out, but there were a few too many burnt bits about on the Friday night. Despite the mornings being a bit hazy ("Oh mist rolling in from the sea.....", there's that song again) the sun came out, the wind stayed light and the golf was great. The course was ideal links golf with good shots being rewarded and even the occasional bad shot.
Talking of 'bad shots' we welcomed our first player with Tourettes in 2010. Brandon made a welcome addition to the South but would have a strong verbal tic whenever he hit a bad shot "f%$K, s&%t, bo%$£ks, f&@k". This did not stop Brandon walking off with three points.
<![if !vml]>

<![endif]>
The Opening Hole
Machrihanish is most famous for its opening hole. There is a large expanse of beach to cover before reaching the sanctuary of the fairway. The more beach you take on, the shorter the second shot. To liven things up we had a kitty contribution for all those whose drives stayed on the beach. The Roll of Honour to have a sandy lie includes: Dave B, Magnus, Charles, Ollie, Brandon, Tony and Pete.
Special Congratulations go to Ian and Alex who having safely found the fairway managed to head back to the beach with their seconds.
<![if !vml]>

<![endif]>
The Feathers
It takes a long time to get to Campletown where we were staying. By definition, it must also take a long time to leave Campletown, and a quick look round the Feathers on a Thursday night confirmed that the gene pool remained quite undiluted. That said, the atmosphere was good and the usual suspects were found late into the night around the bar talking to JK Rowling's mum.. She had a desire to tell everyone she was going, but was disappointed to only get a "goodnight" in return.
Though Sarge was once again late to leave, this did not make the top ten big night outs chart.
Machrihanish Dunes
Having travelled so far, many of us took the opportunity on the Saturday morning to play Machrihanish Dunes golf course.
<![if !vml]>
<![endif]>
Despite having been only open less than a year, this was an amazing golfing experience. Built on a site of specific scientific interest the idea of this course was to be closer to the original way golf was meant to be played. No earth moving and real natural bunkers made for a genuine links experience with each group being given a 'spotter' to help us find our way round. Three putting was common on hugely sloping greens and despite this being the fourth round in less than 48 hours it was thoroughly enjoyed by all.
Many great memories to take with us in our nine hour drive back home............
The Match Summary
Round 1 – Fourballs? (Thursday PM)
With six on one side and seven on another it required some juggling around with the normal four ball format. What we ended up with was; Singles match, a Two versus One match (the two compete on alternative holes), a Fourball match, and a final Fourball match. Got it!
The South nudged ahead early taking 2.5 of the available 4 points. The North started well with Mike beating Magnus narrowly and then Pete and Dave B grabbed a half with Andy. It was full points to the South though in the last two games with Tony and Greg, and David and Brandon both winning.
Round 2 – Fourballs? (Friday AM)
The South kept the pressure up taking the morning matches 3 to 1. Only Charles who beat a tired Tony (long night in the Feathers) in the first up game registered anything for the North. David won 4&3, Brandon and Greg 3&1, and Andy and Magnus 6&4.
The South had an overall 5.5 to 2.5 lead heading into the singles.
Round 3 – Singles (Friday AM)
The singles were shared 3 – 3 with wins for Pete, Charles and Ollie for the North and Brandon, David and Greg for the South.
So in the end it was 8.5 to the South and a comfortable victory over the North (5.5).
Special Mentions
Brandon, Greg and David all went un-defeated..
Andy is the still the competitions highest points scorer with 20.5 points.
The Captains Cup
I would like to have a picture of the Captains Cup being presented to the player making the greatest contribution or best results. Unfortunately the previous winner failed to return the cup! There was some debate about how this should be awarded ("How can you concentrate on a stableford score when you are playing match play?"). However, it is called the Captains because the two Captains decide how this should be played for each year. The decision this year was again to track stableford scores:
Round 1

Round 2

Round 3

Score

Points

Score

Points

Score

Points

Total

Position

Pete

36

3.5

36

6

37

9

18.5

3

Dave B

37

6.5

24

0

31

0

6.5

9

Andy

31

0

28

0

30

0

0

12

Mike

36

3.5

23

0

34

3

6.5

9

Magnus

37

6.5

45

10

36

5.5

22

2

Charles

35

1.5

40

8

36

5.5

15

5

Ian

23

0

27

0

29

0

0

12

Greg

37

6.5

29

1

35

4

11.5

8

Alex

39

10

32

3.5

32

1

14.5

6

Oliver

32

0

32

3.5

41

12

15.5

4

Brandon

34

0

46

12

33

2

14

7

David

45

12

34

5

37

9

26

1

Tony

35

1.5

31

2

28

0

3.5

11

<![if !supportMisalignedColumns]>
<![endif]>
David came out on top, but I am not sure if the Captains can win the cup themselves so I would award it to Magnus (This has not been agreed with David yet!)
Looking forward to the next one...
Photographs
Photographs of the 11th Hemisphere Cup
Detailed Results