Paul Carter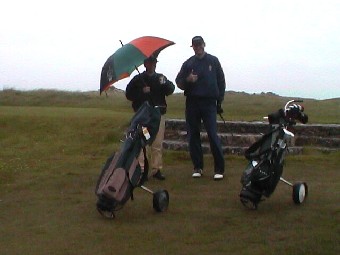 Record:
Played 26*: Won 11, Lost 9, Drawn 6
* Missed last game at Silloth
Strengths & Weaknesses:
The granddaddy of the bunch, Paul is good for a long joke or two. He possesses a very tidy game, but exhibits some mental weaknesses. This is not uncommon in this group, it just that Paul seems more willing to fly this particular flag. Paul has spent many an hour regaling us with stories of his sex life and he is also a tangential thinker. We are not sure if the two are linked.
Opposing Captains View:
When Paul first arrived at the Machrie it confused the hell out of the Northern team as there were now two Pauls. Fortunately Paul C did not have the swing of Paul M though he did have a bag full of shit jokes. The only person I know who can play 18 holes quicker than he takes to tell a joke!