Andrew Wayland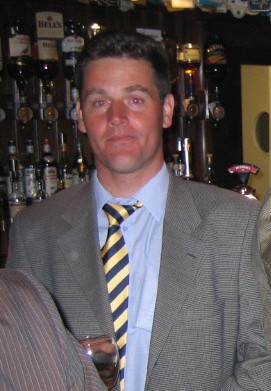 Record:
Played 54: Won 24, Lost 19, Drawn 11
Strengths & Weaknesses:
Missed at The Machrie, Andrew was welcomed back at Connemara. I am not sure why, he was crap. To travel all that way and only pick up a half point is appalling. However, the man has pride and since those dark hours he has recommitted himself to the game and we expect big things of him this year. He has consistently displayed a team ethos. This manifests itself in his willingness to drink with the opposing team until the early hours of the morning, guaranteeing crap performances from our opposition.
Opposing Captains View:
Just like Lee Westwood, Andrew followed up a tremendous 2000 by falling rapidly down the order or merit. His form at Lytham was sensational, whilst he strugled at Connemara where his only real success was in getting to share a buggy with Graham for the final round.