Rene Kleyweg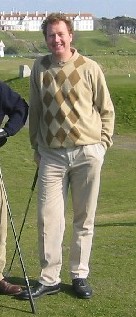 Record:
Played 8: Won 7, Lost 1, Drawn 0
Strengths & Weaknesses:
A majestic performance on his first Hemisphere Cup outing at Turnberry helped save the Northern team from an even bigger drubbing. For a man whose golf game is built to take him far into the new millennium, it is a surprise that his taste in attire has all the colouring of a late 70ís sit-com. Rene played the shot of the week at the 9th on the Kintyre course round a tree, over a bunker and with no green to work with, to only a few feet.....only to miss the putt! Introduced gambling to the general masses whilst watching the Masters.
Made a welcome return to the team at Ballyliffin.
Opposing Captains View:
Rene has a swing the makes the average 20 handicapper tremble with fear, it is a thing of elegance and beauty. Unfortunately there are no ordinary 20 handicappers in this event. It did not take long for Rene to get into the spirit of things and start to physically abuse his clubs, bags and any other inanimate object within range when things did not go according to plan. He certainly displays all the pedigree of a true Hemisphere Cupper by staying up late on Friday night and then having to make an emergency dash up to Glasgow to spend the weekend golfing at the Machrie. Top effort!