Peter Simpson
<![if !vml]>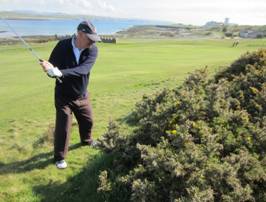 <![endif]>
Record:
Played 63: Won 26, Lost 29, Drawn 8
Strengths & Weaknesses:
As one of the founders of the Cup, has been able to show off all aspects of his game. This includes a propensity to hit a high uncontrollable slice, particularily if it is windy. This helps explain why he likes courses with fairways that run parallel so that he can bail out right. Has a new driver in his bag for 2003 that will hopefully reduce the impact of this shot.
Opposing Captains View:
Pete is a master scrambler, which is just as well given some of the locations he places his ball. He has "get out of jail" ability with the putter. However, he is highly suspect when subject to sledging. A good example of this is his assault on his golf bag, which took place after a particularly well placed tip from his opponent.