Charles Hunt
<![if !vml]>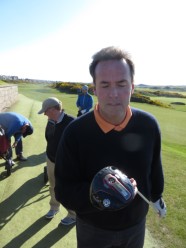 <![endif]>
Record:
Played 42: Won 23, Lost 18, Drawn 1
Strengths & Weaknesses:
Blink.........and you've missed him. If it wasn't for his opponents slowing him down, Charles would complete his round in under 2 hours. It is this speed that upsets his opponents and accounts for his strong record. Unbeaten at both Connemara and the Mahcrie, Charles is either a great golfer or has been lucky to play with Mike a lot. One of the few people to live outside London, he is part of the countryside alliance and owns a barbour.
Opposing Captains View:
A bit of a drama queen who does not see any value in a practice swing, but good for a laugh. If you have the fitness, challenge him to play even faster and watch his game fall to pieces.