THE HEMISPHERE CUP
Founded 2000

4th Hemisphere Cup - Turnberry, Scotland. April 10th/11th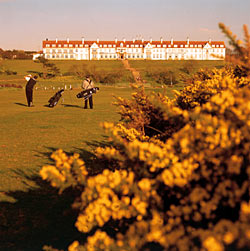 Instructions for those playing are as follows:
Thursday 10th April
When You Arrive
- Drop bags off at main hotel
- Take clubs and golf gear down to clubhouse where you can change
- Grab lunch if not already done so (own cost at this stage)
in Clubhouse
- Order of Play for Afternoon drawn
- Team tops handed out
- Please bring £100 additional kitty money to be collected for drinks, etc. over two days
- Pre-order food for evening meal
5 x Fourballs over the Ailsa Course
Evening
- Move into lodge rooms (see sleeping plan below)
- sit down for dinner in the Tappie Toorie Grill in the Clubhouse
- Retire to Ailsa Bar in main hotel
- Order of Play for Friday morning drawn
Friday 11th April
Breakfast
- Breakfast in main hotel
5 x Fourballs over the Kintyre Course
Lunch
- Lunch in Clubhouse
- Order of Play for Singles drawn
Singles Matches - Playes as 5 x Fourballs over the Ailsa Course
Evening
- 8:00 pm, pre dinner drinks in Drawing Room
- Presentation of The Hemisphere Cup
- , Championship Dinner in Kintyre Private Dining Room, Main Hotel
(Let me know if you are a vegitarian as we have a set menu with meat as main course)
- Ailsa Bar for as long as you like..........
Saturday 12th April
Breakfast
- Breakfast in main hotel
Checkout
- Checkout is by
*******************************************************************************************************************************
Other Information
Sleeping Arrangements
People will be required to share twin rooms. These have been arranged in advance with the hotel to help with the check in process.
Main Lodge
Matt Andrews & Nick Williams
Paul Marais & Paul Carter
Andrew Wayland & James Jennings
Hugh Richards & Philip Graham
Julian Solecki & Oliver Jones
Ross Simpson & Peter Cosgrove
Mike Masters & Charles Hunt
Graham Frazer & Rene Kleyweg
2nd Lodge
Greg Caster & David Burns
Captains Cottage
David Whiteing & Peter Simpson
Use of Caddies
Some people have enquired about the use of caddies. In the interest of fairness and the fact that the last round is always the hardest, it has been decided that individuals will only be allowed a caddie for the Friday afternoon round if they want one. Please arrange this with the Caddie Master yourself and you will have to settle in cash with your caddie (about £30 plus tip).
Costs
Accomodation, golf and dinner for the Friday have been paid in advance. We have then some money left over from your original subs but will collect £100 on the Thursday from all to set up a kitty to cover dinner on Thursday, lunch on Friday and wine and bar bills. We will set up a tab and pay that off in one on the Saturday morning.
Hotel Address and Number
The Westin Turnberry Resort, Scotland
Turnberry
Ayrshire
KA26 9LT
Hotel Number: 01655 331000