THE HEMISPHERE CUP
Founded 2000

13th Hemisphere Cup – Royal St Davids, Wales
May 24th/25th, 2012
<![if !vml]>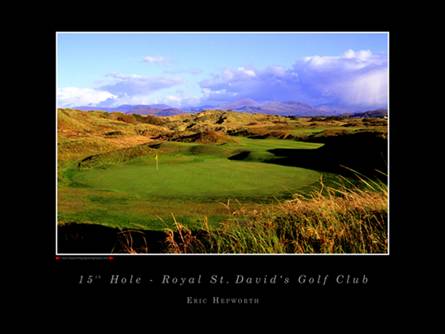 <![endif]>
After a strong start the North burn up in the Sun
The Hemisphere Cup visited Wales for the second time and Royal St Davids proved a great venue. Put simply, The North started strongly, got overheated and fell totally apart. Sarge got the yips and must take full responsibility for the North's loss.
The Match Summary
Round 1 – Fourballs (Thursday PM)
The North came out fast and had the chance to win all four games. Greg beat Andy 3&1, whilst all the other games went to the 18th with the North one up. But the North could not hold on in two of the games and the matches were halved. The North still held a 3 points to 1 lead, but the cracks in Sarge's putting were already appearing.
Round 2 – Fourballs (Friday AM)
The temperatures rise and the South rally in the morning taking 2.5 points of the four on offer. The big talking point though is Sarge's putting. Resembling a cross between Sergio Garcia and Bernhard Langer at their worst he manages to three putt 7 times in an otherwise solid round. He is left scratching his head and is seen at lunch time seeking advise form the 'yips' expert Mike. Whilst he is seen practicing with a long putter it may not help in the long run if banned by the R&A.
Round 3 – Singles (Friday PM)
The North head into the singles with a narrow 4.5 to 3.5 lead, but what follows next can be best describer, literally, as a meltdown for the North. The temperatures rise and so do the South. Only Dave Burns is able to get on the scoreboard for the North as John, Paul, Brandon, Bronson and Dave deliver victories for the South and help retain the cup.
So in the end it was 8.5 points to the South and 5.5 to the North.
Special Mentions
The South recruited well with new boys Bronson and John both going undefeated.
David remains the competitions highest points scorer with 24 points. Mike has won 21 for the North.
The Captains Cup
The Captains Cup was awarded to David Burns who despite being on the losing side was never bettered taking 2.5 points.
Photographs
Photographs of the 13th Hemisphere Cup
Detailed Results