THE HEMISPHERE CUP
Founded 2000

9th Hemisphere Cup - Silloth on Solway, England
May 22nd/23rd, 2008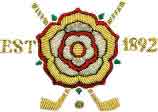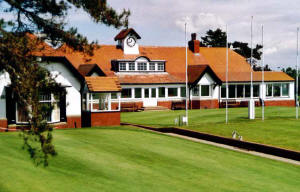 North Make it Back to Back Wins
Where is Silloth?
Silloth on Solway is often described as one of those Hidden Gem golf courses. The problem with a Hidden Gem is you have to find it in the first place. Upon consulting a map we discover it is west of Carlisle within shouting distance of Scotland. Given the Wednesday night before the game is the Champions League final between Manchester United and Chelsea a few of decide to travel up to Carlisle the day before to spend the night there and to watch the game in some local hostelry. Though we were not expecting many Chelsea fans, we were not expecting the sea of red that greeted us. The place was jam packed solid with Manchester United jerseys and not a Manchester accent in sight. We set off at a great pace on Guinness and with the help of extra time we were in a typical poor state of physical well being the next day ready to enter the 9th Hemisphere Cup.......
What to do in Silloth?
It is fair to say that Silloth has probably seen better days. The only hotel in Silloth (the aptly named Golf Hotel) gives a clue to the one and only thing worth visiting in Silloth. To use one of Uncle Bryn's favourite words....It has a "Cracking" Golf Course, a really good links course with plenty to keep both the low and high handicapper interested. And after two terrible years for weather at the Hemisphere Cup, it was great to be able to see the colour of our team strips as the sun actually came out.
It was great to meet up again with old friends and to welcome newcomers Alan, John and Magnus to the Hemisphere Cup.
Even though Sarge(Ian) could not make it (some poor excuse) it was good to see Tony picking up where Ian left off in Ballyliffin and drink himself silly on the Thursday night. I am not sure what the Manageress/Bartender/ Receptionist (...she seemed to do every job) made of his 16 attempts to write his name on trying to register on arrival. I am also not sure of her reaction on being asked to judge the "What's the rudest thing you can say?" competition. Not sure who won, but there was plenty of interest in the Cockin's of Cockermouth, and someone owed Andy's dog some money!
Something of a streak
It is worth mentioning that despite a slow start to his Hemisphere Cup career, Hugh is on something of a hot streak. In his first five appearances, Hugh racked up 2.5 points out of a possible 15 and his Captain was on the point of sending him back to the minor leagues. But since Saunton, Hugh has won 7.5 out of a possible 9 points. Fantastic.
Surely this can act as inspiration for Julian?
The Match Summary
Round 1 – Fourballs
Unusually the North take a first day lead by 3 to 2. Alan adds some firepower to the team helping Pete to overcome a strong showing from Iain and Greg. Charles drags Barry down and carries on his losing streak against Hugh and Andy.
Round 2 – Fourballs
Its going to be all square going into the singles as the South take the morning fourballs 3 to 2. In a high handicapper show down Iain and Tony beat Oliver and Dave by 6&4 with both pairs struggling with not getting many shots! Hugh and Paul rack up a big win over Mike, whilst Andy and Dave BB rack up a big win over Graham and Pete.
Round 3 – Singles
It's an interesting afternoon as the first four matches see two wins for the South and two halved games. One of the wins was to Hugh over Mike, though Mike did fight back from being dormie 6 to take it to the 17th. It was looking grim for the North at this stage, but a very strong tail saw every other game go to the North. The games between John and Dave B, and Tony and Barry, both went to the 18th making the final score of 11-8 to the North look far more comfortable than it actually was.
Hugh and Andy go undefeated for the South, whilst Alan and Rene do the same for the North.
Photographs
Photographs of the 9th Hemisphere Cup
Detailed Results