THE HEMISPHERE CUP
Founded 2000

19th Hemisphere Cup – Hunstanton, England
May 3rd/4th, 2018
<![if !vml]>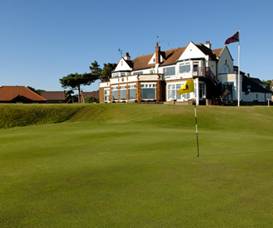 <![endif]>
The Hero's of Hunstanton
The detailed match summary is further below, but for the 19th Hemisphere Cup here are the 19 things that made me smile (in no particular order):
<![if !supportLists]>1. <![endif]>Biffy Burns – Dave got the match underway with a characteristic Biff straight down the middle of the first. Scientists are still trying to work out how club head and ball actually meet.
<![if !supportLists]>2. <![endif]>Asleep with the Cup – When it's your 7th Hemisphere Cup and you have never been on the winning side, it's good to get your hands on the cup.
<![if !supportLists]>3. <![endif]>Red or White – We were all impressed with the waiter in the Mariners Pub when he said he knew the wine list off by heart. We were less impressed when he then said "we have only two, Red or White".
<![if !supportLists]>4. <![endif]>Coup d'etat – Having not won the cup since 2013. Having been responsible for all team picks and order of play in this time. For having picked supposedly dodgy coloured tops. Pete was under pressure from Dave B to shape up or ship out. Fortunately the result went the right way and Pete retains the support of his team (for now….).
<![if !supportLists]>5. <![endif]>Ollie's 50 – Ollie became the 4th person to play 50 Hemisphere Cup matches with his Friday morning round with Max. That's a lot of golf.
<![if !supportLists]>6. <![endif]>Who needs Sarge – Was Sarge missed in this year's Hemisphere Cup? Obviously not and comparisons to the great team player that is Kevin Pietersen were raised. All is not looking down for Sarge though as the great goat question was asked of Max on Friday night and there may be yet be another member.
<![if !supportLists]>7. <![endif]>Sock Off – Alex explained how his son settled disagreements at school by playing a game of 'Sock Off'. Whoever could get the other persons sock off first won. Alex fell asleep and Pete took off Alex's sock. Alex then threw Pete's shoes outside.
<![if !supportLists]>8. <![endif]>Who stole my laces – Whilst throwing Pete's shoes outside, Alex's shoe laces went walkabouts. They were eventually returned at breakfast.
<![if !supportLists]>9. <![endif]>Verruca Dave – Painful and difficult to get rid of, that is how the South see Dave - V. D. Burns or the Wart of the North. Here he is looking very pleased with his tee shot at the 7th.
<![if !supportLists]>10. <![endif]>Maiden Victory Max – Julian amassed one point in 18 Hemisphere Cup games. Max took one game to equal this total.
<![if !supportLists]>11. <![endif]>3 from 3 – Alex won all his matches, and by some margin. 5&3, 5&4, 7&5. Clearly in the Hemisphere Cup form of his life, and well on his way to a mighty handicap cut for 2019.
<![if !supportLists]>12. <![endif]> Viking Thunder Clap – Dave B decided that we should celebrate the North victory with the Viking Thunder Clap.
<![if !supportLists]>13. <![endif]>First taste of losing – Royal St Davids, St Enedoc, Cruden Bay, Aberdovey, Rosapenna. Played 5, won 5. Jan had only ever drunk from the cup of victory (having avoided Castletown) and thus came to an end a quite unique record.
<![if !supportLists]>14. <![endif]>David and Goliath – Ollie beat Bronson in the singles match on the first day to break a long run of pointlessness (is that a word?). Having 2 shots on some holes certainly helped as the HC moved to full handicap difference, but a job well done.
<![if !supportLists]>15. <![endif]>Max's Marvelous Chip – He may have lost the match 8&7 but he brought a round of applause from those behind the 18th green with his deft chip to the last from deep rough. (We don't have a picture of this, but we do have one playing out of the bunker on 16)
<![if !supportLists]>16. <![endif]>Bat Out of Hell – For those of us with too much time on our hands and of advancing years, Pop Master on radio 2 at 10:30am every day is a regular listen. On the way up in the car Dave said that the final question of 'Give me three hits from a certain band in 10 seconds' was really hard and the only band he could do was Meatloaf. Bat out of Hell, Two out of Three Ain't Bad and Paradise by the Dashboard Light were the three Dave said he could name. Call it fate, or destiny, but the final question from Ken Bruce was 'Give me three hits from Meat Loaf in 10 seconds'. This was the first time the North spoke about maybe this was their year….
<![if !supportLists]>17. <![endif]>Two Putters – Having fought (and lost) with the putting yips for as long as we can remember, Dave B turned up with two putters in his bag. One right handed and one left handed. We can confirm that he does putt better left handed.
<![if !supportLists]>18. <![endif]>Marking a rare victory – Driving down the A1 with the cup in hand, the North decided to mark this in a more permanent way with team tattoos. Here is Dave's permanent reminder.
And last, but certainly not least…….
<![if !supportLists]>19. <![endif]>Reach for the Stars – The North celebrate in the only way they know how. This year it was the S Club 7 classic Reach for the Stars that got slaughtered.
https://www.youtube.com/watch?v=jLVNPSElDNo
The Match Summary
Round 1 – Foursomes (Thursday PM)
Dave got the match underway with a 'Super Biff' at the first playing with Alex. They were up against Dave and Andrew and the North prevailed to come out eventual winners 5&3.
Max then hit his first competitive shot in Hemisphere Cup golf straight down the middle as he partnered Pete against Brandon and Jan. Some uncharacteristic bad driving from both Brandon and Jan helped the North to a 4&3 victory. Max's approach to the 6th deserves special mention.
Could the North make it three wins out of three? Ollie was up against Bronson and had not delivered a full point since Castletown in 2013. Bronson played great, but helped by the largest number of shots in Hemisphere Cup history (24 playing 2), Ollie came out eventually the 3&1 winner.
3-0 to the North.
Round 2 – Foursomes (Friday AM)
The South are too good a team to not pull their socks up and try to turn the match around and arrived in confident mood on Friday morning. Ollie's talk of a 'whitewash' was surely a bit premature and a bit over confident.
We did not have to wait long for the fightback with Ollie and Max crashing 8 (eight) & 7 (seven) to Bronson and Brandon. This earned Ollie and Max a place on the wall of shame in the HC records for those who have lost by seven holes or more.
Dave and Pete then had a fantastic match against David and Jan where the lead changed hands seven times and went to the 17th all square. One 'Biff' later, followed by four hacks, a lost ball and several more average shots the South had taken the 17th with an 8! They then went on to win the 18th to take the match 2 up.
It was left to Alex in the final game to keep a bit of momentum with the North winning his match against Andrew 5&4.
The North would go into the single with a 4-2 lead.
Round 3 – Singles (Friday PM)
Needing 3.5 points out of the 5 to retain the cup, the South looked for some strong match ups in the singles and the draw produced:
Dave vs David
Alex vs Bronson
Ollie vs Brandon
Pete vs Jan
Max vs Andrew
Out on the course it was difficult to keep track but it was clear that Alex was in the Hemisphere Cup form of his life. He quickly went up against Bronson and secured a point for the North with a 7&5 victory. News then came forward that Max was in trouble against Andrew and would go on lose his match 6&4.
The matches between Dave & David and Ollie & Brandon looked like they would go the distance and it fell to Pete to hole the winning putt for the North as he closed out his match with Jan (who was still struggling big time off the tee) 5&4.
Five years of hurt were over and the North had at last won back the cup. It was down to personal pride in the last two games and Dave & David went on to halve their match on the 18th, whilst Ollie & Brandon took a 'Gentleman's Half' on the 18th tee with the match level as no one deserved to lose.
The Captains Cup
The Captains Cup was awarded to Bronson (1 points) for easily being the best golfer, but coming up against some high handicapers from the North on their one good day in five years.
Photographs
Photographs from the 19th Hemisphere Cup
Detailed Results
Detailed Results from the 19th Hemisphere Cup