THE HEMISPHERE CUP
Founded 2000

17th Hemisphere Cup – Aberdovey, Wales
May 19th/20th, 2016
<![if !vml]>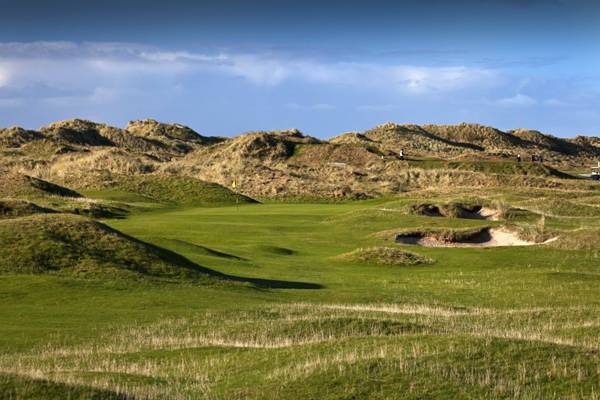 <![endif]>
Land of my Fathers
Back to Wales and it was good to have Bruno and Jas join us for the 17th Hemisphere Cup at Aberdovey Golf Club. The Jersey golf scene must be flourishing with three islander's taking part in the Cup and surely one year we must visit this offshore tax haven. It was also good to see David Burns back in the pack following his forced lay off in 2015 due to a self inflicted injury from building a zip line in the garden.
2016 was the first year that we did not see David Whiteing teeing it up after 16 straight appearances. Let's hope he is back in 2017 to fall asleep in his starter.
The match had a wet and delayed start as the Jersey participants had some flight challenges but, as always, it became a close and enjoyable couple of days of competitive golf. The score? Bookies will stop taking bets as the match had a familiar result to previous years……….
The Match Summary
Round 1 – Fourballs (Thursday PM)
And it rained, and rained and rained. Whilst two matches set out, Pete had a nap in the car whilst waiting for the Jersey trio to arrive. By the time they did the worst of the rain had passed and they were able to play catch up on the links.
No one was quite sure on how the course looked as it was heads down golf but Dave and Sarge got off to a half with Bronson and Jan. Alex and Ollie fell at the last (one down) after being up for much of the match against Andy and Brandon.
Pete and Bruno then came through late with a 5&4 victory over Jas and Magnus to leave the match all square at the end of the first day.
Round 2 – Fourballs (Friday AM)
It was going to be a vital set of matches on the Friday morning and once again the Northern team wished they had gone to bed a bit earlier the previous night (and with a bit less claret on board).
Alex and Sarge were sent out first to get a bit of early momentum for the North. It did not happen. Magnus and Jan saw them off 5&4 and Sarge's performance was described by various commentators as 'poor'. Bruno and Dave brought the match back level with a 2 up victory on Andy and Jas on what turned out to be a lovely morning for golf.
The final game between Ollie and Pete versus Brandon and Bronson was a tight affair through to the 8th when with the match all square Brandon hit a thinned approach to the green that caught the flag square and fell within tap in distance of the hole. From looking like going one up the North fell one behind and never got back in the game. The South were 3.5 to 2.5 up heading into lunch.
Round 3 – Singles (Friday PM)
After lunch and 36 holes in the last 24 hours a few bodies were feeling the effects and needed a bit of warming up and greenside yoga was the rage.
Trailing by a point Alex was sent out in Match No 1 by the North and he delivered with a hard fought 2&1 win over Bronson who was struggling whilst remodeling his swing.
Match No 2 saw the Battle of Jersey as Bruno and Magnus went head to head. The money was on Bruno after a strong showing in the first two games, but Magnus was not having any of it and came through with a 4&3 victory.
Sarge completed a dismal showing on home soil (Only Warren Gatland would see anything positive in his performance) when he lost Match No 3 to Andy 2&1.
The South were now only half a point from retaining the cup with three matches to go and they did not have to wait long before Ollie succumbed (after hitting every shot over three rounds up the left rough) to Jan by 5&4 in Match No 4.
Dave and Brandon played together in Match No 5 and Brandon rolled over and had his tummy tickled by Dave 7&5. Pete and Jas played in Match No 6 and with the match all over Pete came through strongly 8&7 (no photos exist if this match as being last out there was no one to take the photo!)
So it was all over and the South had won by 6.5 to 5.5 (For the third year running).
Special Mentions
Jan deserves a special mention for flooding the Penhelig Arms on the Thursday night. As water cascaded through the ceiling on to poor people having dinner below, Jan pretended it wasn't his fault.
The Captains Cup
The Captains Cup was awarded to Dave Burns due to some strange clerical error.
Photographs
Photographs from the 17th Hemisphere Cup
Detailed Results
Detailed Results from the 17th Hemisphere Cup